Welcome to
Saint-Christophe's Caves
Welcome to the historic site of Saint-Christophe's Caves
Welcome to the historic site of St Christophe's Caves !
On the border between Savoy and Dauphiné, this site is constituted by a natural canyon between the mountains carved out by the laborious work of the waters and used by men since Roman times as a commercial road. There are two beautiful caves arranged for tourism, one on each side of the canyon.
Come to visit this site in a guided tour which combines nature, history and geology for the delight of young and old !
Guided tour informations
Present yourself at the reception area at least 15mns before the chosen departure time. 
This guided tour is not accessible to strollers and wheelchairs. Baby carrier mandatory during the tour. No free visits in the caves.
The guided tour lasts 1 hour and 20 minutes
Prices : 9.00€ adult / 6.00€ child
Bilingual tour in English/French (writing translation available in Dutch, german, spanish, italian and english.)
Dogs in leash accepted
Temperature in the upper cave : 9°C
We do not take reservations if your group is less than 10 people.
Price :
Adult : 9€
Child : 6€
(5-14 years old)
Reduce price : 7,5€
(Student, unemployed person, « pass futé »…)
On November, the caves are closed every Monday and Tuesday. From Wednesday to Sunday, departures at 13h30 and 15h (+ 11h30 on week-ends).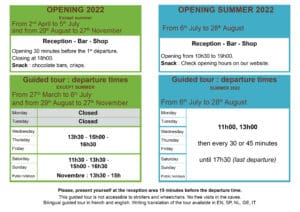 For security matters, it is not allowed to enter the caves without a guide. Baby carrier mandatory during the tour. The site is not accessible to strollers and wheelchairs.
Booking closed from Septembre to June.
On site, you will find : 
A reception area : bar, terrace, shop and snack only in July and August
A shaded picnic area
A reception area for mobility-impaired visitors (The guided tour of  caves and the sardinian way are not accessible to persons with motor disability)
Toilets
Free parking spots
Other Activities
The play path « Tracking down Azil and Magda »
Thanks to the creation of a path open to the greatest number, you can access from the Sardinian way the archaeological site of Fru an entertaining occasion to discover and explore this archaeological area, scene of the first traces of human settlement in Savoy 14000 years ago…
A playbook is sold at the reception area for 7€
Translation available in English or Dutch. 
Path to be used autonomously, children are under the responsibility of the parents. 
Recommended time: 2h30
At the end of the game you'll have the opportunity to log in on the internet to evaluate your score and learn more about the lives men lead on the site of Fru 14,000 years ago
Check out our different hikes : 
« La boucle de l'Echaillon » 
2 hours and 30 minutes – 6kms. Download the map here (in french only).
« La Voie Sarde et le pont romain » / The sardinian way and the roman bridge
1 hour an 15 minutes – round trip – around 2kms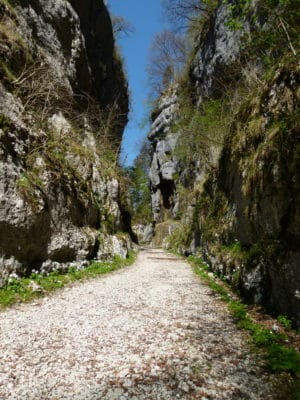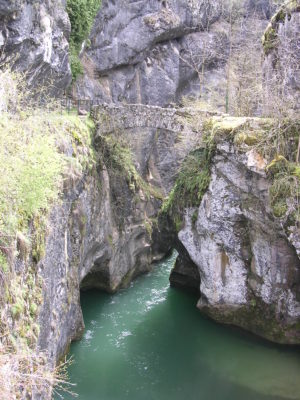 Getting there
Follow signs to the « Chartreuse Regional Nature Park ».
From Chambery: 20 minutes. Follow Lyon via Les Échelles (RD 1006) for about 20 km. Accueil car park on the left just before the tunnel.
From Grenoble: follow Voiron, St Laurent du Pont and Chambéry. Accueil car park on the right just after the tunnel situated 4 km after Les Échelles.
From Lyon by motorway: take exit 11 « Belley – St Genix sur Guiers » and follow Pont de Beauvoisin, Les Échelles and Chambéry.
2 car parks are available on the site : 
Parking « de l'Accueil » (visit departure and Reception area)
Parking « de la Chapelle » (30 minutes walk from the start of the tour)
If you have any questions, please, contact us : 
info@grottes-saint-christophe.com or 04 79 65 75 08